4.5 out of 5 stars for Waltz of Seduction from Night Owl Reviews!
---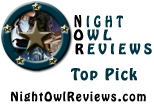 "Smartly written with a real feel for the era and all the proprieties that went with it, Sara and Colin embarking on a sensual journey was that much more enjoyable...No more fumbling under the nightgown, Colin and Sara discovered every erotic secret the other held, and we the reader got to be a voyeur. I enjoyed this story thoroughly and will go back to it again. This is my first book by this author and I will now be investigating her backlist." ~ Chris at Night Owl Reviews
To read more (it's a beautifully written review to read more click the Night Owl Reviews Top Pick badge above.)
To read an excerpt or to purchase click book cover.
__________________