10 of 10 Stars for Grey's Lady from Sinfully Tasty Reads!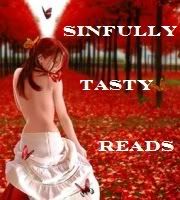 "This Novella is about these two people with such strong wills trying to fight for dominance in their red hot affair...
Anyone 18+ looking for a HOT read and strong characters really should pick up a copy of Grey's Lady." ~ Skyla of Sinfully Tasty Reads.
From Close Encounters of the Night
Kind!
"I kept expecting my fingers to be scorched by the pages.

Not only was this book incredibly erotic, it also was interestingly enough, romantic.

So if you like your historical romances with a little bit more sizzle than sweetness, this is the book for you.

My only regret was that it wasn't longer!

I remember finishing it up and going noooo!

This one's a page turner ladies and definitely leaves you wanting to be Grey's Lady!!!!" ~ Nikki of
Close Encounters of the Night Kind.
5 of 5 Flowers For Grey's Lady by "A Chick Who Reads"!!
"It was great fun to watch these characters come together. And the sex...well...steamy. I really enjoyed getting to know Beth and Grey. Both were really intriguing characters that you really want to get to know...can't wait to read the next book in this new series." ~ Andrea of
"A Chick Who Reads."
4 of 5 Stars For Grey's Lady from Sensual Reads!
Praise for Grey's Lady from Erotica 4 All!
"I thoroughly enjoyed this. The tone and language felt authentic for the time, but it certainly didn't dampen the heat between the characters!...a seriously sexy read and one I'd recommend to others." ~ Lucy Felthouse of
Erotica 4 All.