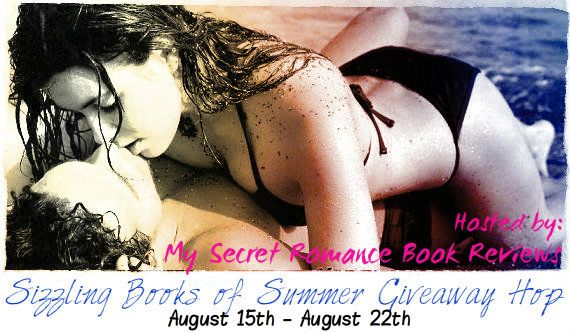 Welcome to the Sizzling Books of Summer Giveaway Hop!
I am offering three giveaways for this hop.
Click on the covers below to find out more about each giveaway.
Giveaway Number One:

Wendi Zwaduk's New Erotic Romance Release: Sunshine of Your Love, a historical set in the turbulent aftermath of the Vietnam War.
It's 1970. The world is in upheaval. Can two people really make a difference and find love at the same time?
To enter to win a free PDF copy of Sunshine of Your Love, please fill out the first Rafflecopter at the end of this post.
There is only one mandatory entry, affirm that you are legally and adult. All other entries are opitonal and merely increase your chances of winning. Good Luck!
Click Cover to Read More About Sunshine of Your Love:
Giveaway Number Two:
Vastine Bondurant's Sensual Historical MM Romance Set in 1930, Purly Gates.
A lonely stretch of beach becomes a hiding place for two men who, when their paths cross, are determined not to be ships just passing in the night.
To enter to win a free PDF copy of Purly Gates, please fill out the second Rafflecopter at the end of this post.
There is only one mandatory entry, affirm that you are legally an adult. All other entries are opitonal and merely increase your chances of winning. Good Luck!
Click Cover to Read More About Purly Gates:
Enter to win your choice from Natasha Blackthorne's e-published works.
A Midsummer's Sin is my latest Erotic Romance release, set during a sultry summer in Colonial America.
To read about my other Erotic Romances, please look in the upper left side bar. Click on covers to read more about each one.
To enter this contest, please make a comment on this post telling me which book of mine you'd like to win.
So it is summer time. The days are hot and the nights seem even hotter sometimes. Did you ever fancy having white hot sex outdoors on a sultry summer's night?
What if you lived in very religious, restrictive community and giving into temptation was a sin?
But what if that temptation was also reinforced by forbidden love?
Then what if late one hot summer's night you saw your beloved, dancing in the woods, nearly naked?
That is the heart of my latest novella
.
Sometimes giving in to temptation is the best thing you can do...
Goodman Thomas Marlowe needs a wife. He loves his neighbour's bondswoman Rosalind Abramson but for all the wrong reasons. The carnal passion he feels for her is at odds with his vision of the perfect marriage—something shaped by the memory of the pure, pious union he shared with his late wife. Valiantly, he fights to keep his feelings hidden.
Rosalind yearns for the handsome Goodman Marlowe. Yet beneath his kind action lies a cool distance that tells her he cannot forgive Rosalind's shameful past. She's determined to deny an infatuation with a man who will never respect her.
However, Thomas cannot focus on finding a bride while the unsuitable Rosalind is always so close and so alluring. Now he's about to take a teaching position in another town. It's the perfect escape for a man tormented by unacceptable desire.
Late one night, in the midst of a summer's hot spell, Thomas spies Rosalind in the woods, clad only in her shift, dancing in the moonlight. It's really more than a man celibate for three years can bear. Thomas is in danger of falling into a sin so powerful it threatens to challenge everything he believes in…
Reader Advisory: This book contains scenes of sensual spanking and issues surrounding previous death and grief. This is a Novella of approx. 64 pages.
By reading any further, you are stating that you are 18 years of age, or over.
If you are under the age of 18, it is necessary to stop reading immediately and exit this site.
Copyright © Natasha Blackthorne, 2012
All Rights Reserved, Total-E-Ntwined Limited, T/A Total-E-Bound.
She was clad in only her shift.
Moonlight illuminated the thin cloth into a shimmering veil. The glowing ivory of her gentle, generous curves, hints of rose-pink nipples, a shadowy triangle between her long, lithesome legs—all teased Thomas' imagination.
Blood rushed from his head to fill his cock.
Heart thundering, he leaned against the tree. He barely dared to take a steadying breath lest the vision of that girl dancing in the clearing might disappear and prove itself a mere figment of his long-starved lust.
Not since his days at Oxford had he seen a woman's body displayed so wantonly, then only in dimly lit, rented chambers. Never in brilliant moonlight.
The wind calmed. The rustling leaves of the tall trees grew silent. Her laughter carried to him. The sound—so free, so girlish—sent pleasurable shivers through him, sensual and immediate, as if a woman had raked her nails softly down his back. His erection throbbed, getting bigger, stiffer, straining his breeches. Sweating, he grasped himself and gave his aching shaft a firm squeeze.
God. It was more than a man, a widower of over a year, could bear.
More so for Thomas. Physical passion had repulsed his wife. For his beloved Patience's sake, after the conception of his son, he'd left her in peace. Now he'd been three years without the ease of a woman's soft, warm body…
That girl—Rosalind Abramson—was everything he craved.
He wanted to go her. To seize her. To crush that beguiling body against his own.
No! He released his cock and took a deep steadying breath. He'd learned how to master his passions. He was a Puritan now, no longer a libertine.
He closed his eyes, but all he saw was hair burning like flames in the noon sun. He was taken back to a little over a year previously when he had been riding in a carriage on a seedy London street.
He had been with his family, on his way to board the Abigail for Boston. His son had taken ill from the stench of the docks and had forced the stopping of the vehicle. Thomas stood outside the vehicle, talking with the driver as they'd allowed the interior to air.
He looked up and saw her. Rosalind. She had worn no head covering—her curls had bounced wildly as she'd run towards him. She'd held her skirts—the most garish hue of green he'd ever beheld—high enough to display trim ankles and well-turned calves clad in pale pink silk stockings that gave her legs the appearance of being completely bare. She had lifted her knees and run like a boy. A fine sheen of sweat had sparkled on her flushed face and on the exposed tops of her generous breasts.
Thomas inhaled deeply and pinched the bridge of his nose, willing the memory away. But the image only intensified.
She had increased her pace, though it didn't seem possible for anyone, much less a woman, to move that quickly.
She'd come upon him so fast and close, he'd thought she meant to crash into him. His man's body, so starved for the touch of feminine flesh, had longed to feel her body colliding with his. Such desire—it had held him immobile. At the last moment, as she'd turned, bypassing him, her eyes, dark brown and large, had caught his—full of terror—he could feel it reverberate in his own bones… His heart had contracted with sympathy. A whoosh of air, scented with roses and musk, had blown over him as she'd hauled herself into the open carriage.
The carriage where his wife had waited.
The crack of a branch snapped. Drawn into the present , he opened his eyes.
Dancing in the moonlight.
As his neighbour's bondswoman, Rosalind was always so close, so desirable yet so utterly uninterested in him. She was warm and friendly to others yet she dealt with him differently. She often acted aloof, slightly superior, as if he'd never done her any kindness.
But now she shared all with him, however unwittingly.
A single chance to have her without risk of discovery. There would be no consequences. He need only reach out and take. He inhaled deeply. Dear God, give him the strength to resist...
a Rafflecopter giveaway
a Rafflecopter giveaway
To enter to win one of my erotic historical romances, please make a comment on this post telling me which book of mine you'd like to win. By commenting and entering to win, you are affirming that you are 18 or older and have reached the age of majority where you live. Void where prohibited by law. If your blogger profile does not contain your email address, please include it.
Want another chance to win one of my ebooks? Click the button below and enter the Hot Summer Heroes Blog Hop Post:
To Continue on the Sizzling Books of Summer Giveaway Hop: