Hello Everyone,
I'd like to share a second excerpt from The Delicate Matter of Lady Blayne. This Erotic Regency Romance will release June 12. It is currently available for Pre-Order on Amazon Kindle.
Scroll down to read the excerpt.
If you haven't read the first chapter, click here.
** ALSO AVAILABLE ON KINDLE UNLIMITED **
Please join me on June 14, a Sunday, for the my new release party on Facebook. To join the party and enter to win a $10 gift card please click here.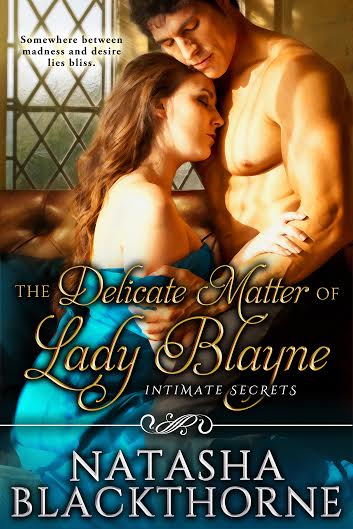 Catriona, Lady Blayne is recovering from a most delicate situation. Driven to the brink of madness by love for her late husband, a young man too ill to meet the demands of the marriage bed, she teeters on the brink of scandal. Now she must face the carnal temptation personified by her husband's cousin and heir, James, the new Lord Blayne. His sensual appeal, contrasted with his iron will and stern self-mastery fascinates her. She can't help but ask: what if sensual indulgence is the only way out of her darkness? However, she is not free to explore the idea. There are those who seek to control the young widow, keeping her imprisoned through emotional manipulation and physical coercion. With her growing restlessness, the very people she loves and trusts the most are becoming an increasing danger to her sanity and safety.
.
James is determined to protect Catriona—but he will not soften to her again. She rejected him once and James can't risk losing his heart a second time. As heir to the Blayne baronetcy, he must marry a woman socially and politically appropriate. Such a scandalously self-indulgent lady as Catriona won't do. Yet the pretty girl he once knew has grown into a beautiful, curvaceous woman that is every man's dream.

Erotic Romance; Regency Historical; Elements of Sensual Domination, Spanking and Light Bondage; Rubenesque Heroine; Character-Driven Story with Angst and Strong Internal Conflicts; Standalone Long Novel.
Reader Advisory
: The characters discuss issues of abuse which took place in the heroine's backstory. Frank sexual language & period appropriate sexual slang and general bedchamber naughtiness.
2nd Excerpt from The Delicate Matter of Lady Blayne ~
Erotic Historical Romance: By reading any further, you are stating that you are 18 years of age, or over. If you are under the age of 18, it is necessary to exit this site.
She had escaped her captors. Those who watched her.
Now Sunny stood by James' bed, listening to the distant chime of the clock in the vestibule.
Soft snores issued from between his parted, sensual lips. Despite the late hour, he still wore a shirt and trousers. His collar lay open.
She picked up the hem of her nightdress and pulled it up, over her head, then tossed it aside. Cool air made gooseflesh erupt all over her. Tightened her nipples. She shivered then noticed a bottle on the night table. She picked it up and sniffed it. Whisky.
She hated whisky. But her mouth and throat were so hellishly dry. She put the bottle to her lips and took a tenative swig, coughing and sputtering then shuddering as the burn of liquor spread through her. The fire was thrilling. Stimulating. Forbidden to her. She took another drink. And another. When the bottle was drained, she replaced it on the night table. The bottle teetered and she caught it. The chamber seemed to tilt and turn.
She closed her eyes and licked her lips, waiting for the giddiness to ease. But it wasn't passing too quickly, so she sat on his bed. Though the bed rocked, he made no sign that he'd noticed.
She considered the way he lay in the bed, as though he had flung himself there. She frowned. What cause had he to drink himself to sleep? Was he troubled by something?
What could possibly affect a Rock of Gibraltar that much?
He groaned softly in his sleep.
She smoothed the hair off his forehead, lingering a moment over the surprisingly silky texture of the inky black strands.
She slid her hand down the crisp linen shirt, down to the bare, hard flatness of his abdomen.