Hello Everyone,
I'd like to share a recent five star review for The Delicate Matter of Lady Blayne:
***5-STAR REVIEW***

from Books and Beyond Fifty Shades

Catriona, Lady Blayne, is recovering from the loss of her husband, a young man who was too ill for the demands of their marriage bed. She fears this has driven her to madness. She is overcome with such severe grief and yet her sensual desires are becoming overwhelming. She is now faced with intense temptation in the form of the heir, her husband's cousin, James the new Lord Blayne. But there are people who want to keep Catriona hidden away to prevent scandal.

James is determined to protect Catriona but as he once felt that he loved her and she rejected him for his cousin, he refuses to fall to her charms yet again. As the new heir, he must marry a woman who is socially acceptable and even though he still feels strongly for Catriona, he knows that she isn't appropriate wife material for the new Lord. And yet, the lovely girl he knew eight years ago has grown into a beautiful curvaceous woman that he can't seem to get out of his head or his heart.

Each book by Natasha Blackthorne gets better than the last and this one is no exception. I would give this book six stars if possible. My heart broke for Catriona and everything that she was enduring at the hands of the people whom she was suppose to trust. She was deliberately fooled by her doctor who said he was helping her with what they termed madness due to her grief. When all she wanted all her life was to be loved, adored, and wanted by someone.

James fought his feelings for Catriona for years. He never forgot the young girl who first stole his heart. All through the wars he fought, she was always on his mind. When he returned and came to see the woman she had become, he knew deep down that he would never be able to just walk away and marry someone who society deemed fit. It truly took him almost losing her completely to really open his eyes to the life that he so desperately wanted to live. Can't wait to see what's next in the Intimate Secrets series.

To Purchase The Delicate Matter of Lady Blayne: http://amzn.to/1HUi4hT


What are other people saying about The Delicate Matter of Lady Blayne?
"When I picked this book up it didn't take me long to get into it and it didn't take me long to finish either because I struggled to put it down. I felt like I was back in time and living the life of Catriona...I found it very easy to understand what she was feeling. Natasha has yet again created another main man which I found so easily to fall in love with...
THIS BOOK WAS SIMPLY AMAZING." from Satin's Bookish Corner
"Overwhelmed with emotions! 6 stars...Omg, The Delicate Matter of Lady Blayne, will take you on an emotional ride! It's an amazing story of trust and passion!...with a touch of darkness and hope...an excellent erotica, about a heroine, bruised emotionally and her hero James; the complexity of their passion is explosive!
I highly recommend it, it's a little gem to discover, you won't be disappointed." ~ Nicole Laverdure's Five Star Review Jun 05,15
.
"A masterpiece of emotional development...While the subject matter is not light, it is beautifully and delicately handled." ~ 5 Stars from Tracey on Goodreads
The Delicate Matter of Lady Blayne is available on Amazon Kindle.
** FREE to read ON KINDLE UNLIMITED **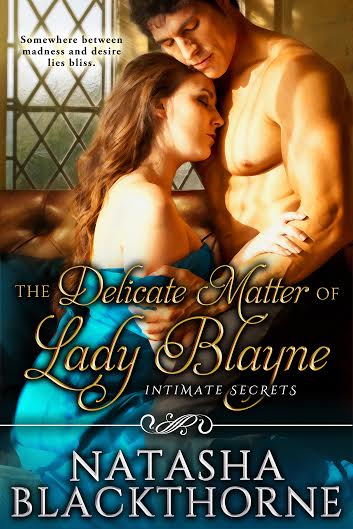 Catriona, Lady Blayne is recovering from a most delicate situation. Driven to the brink of madness by love for her late husband, a young man too ill to meet the demands of the marriage bed, she teeters on the brink of scandal. Now she must face the carnal temptation personified by her husband's cousin and heir, James, the new Lord Blayne. His sensual appeal, contrasted with his iron will and stern self-mastery fascinates her. She can't help but ask: what if sensual indulgence is the only way out of her darkness? However, she is not free to explore the idea. There are those who seek to control the young widow, keeping her imprisoned through emotional manipulation and physical coercion. With her growing restlessness, the very people she loves and trusts the most are becoming an increasing danger to her sanity and safety.
.
James is determined to protect Catriona—but he will not soften to her again. She rejected him once and James can't risk losing his heart a second time. As heir to the Blayne baronetcy, he must marry a woman socially and politically appropriate. Such a scandalously self-indulgent lady as Catriona won't do. Yet the pretty girl he once knew has grown into a beautiful, curvaceous woman that is every man's dream.

Erotic Romance; Regency Historical; Elements of Sensual Domination, Spanking and Light Bondage; Rubenesque Heroine; Character-Driven Story with Angst and Strong Internal Conflicts; Standalone Long Novel.
Reader Advisory
: The characters discuss issues of abuse which took place in the heroine's backstory. Frank sexual language & period appropriate sexual slang and general bedchamber naughtiness.
Excerpt from The Delicate Matter of Lady Blayne ~
Erotic Historical Romance: By reading any further, you are stating that you are 18 years of age, or over. If you are under the age of 18, it is necessary to exit this site.
Still holding one wrist, James rolled Sunny onto her back and flung a leg over hers, locking her into place.
She tried to resist him again but she was growing tired, her struggling becoming more like flailing.
And the maddening thing was, he simply watched her.
Watched her fight, watched her grow weaker.
Eventually, she went limp in his arms. Exhausted.
"
You want to go?" he asked, as though she hadn't just spoken clear English.
"
Yes, you-you-you…
coxcomb
!"
He regarded her seriously. "I don't think I should let you go. At least not quite yet."
She swallowed hard, trying to think of what to do or say.
"
What are you about here, Sunny?"
He spoke in that same calm, serious tone he always did. Yet, now there was a hard edge beneath the calm.
Her mouth went even drier and she swallowed once more, delaying her response. Her racing heart was slowing.
Well, what the devil had just happened? Dizziness overcame her as she frowned, confused.
She'd come here to do what?
She hadn't expected his resistance. She certainly hadn't expected his aggressive response. She had become frightened.
No, she had become frightened of
her feelings
toward him.
Just as when she'd been a girl. She ought not to have run away from him that night in the garden, so long ago. She ought to have allowed James to seduce her. They would have had to get married then, wouldn't they? It wouldn't have been her fault?
No, Freddy needed me.
And you let him down.
She frowned. That was the past and the past was set in stone. All her sins and failures were set in stone.
But the lesson is don't be a ninny! Don't run, seduce him!
How did women tempt gentlemen? Surely gentlemen had more refined tastes than commoners did.
Certainly kissing him and thrusting her hand down his trews and stroking his manly parts hadn't worked. Yes, it had given him an erection—and what an erection! But it hadn't placed her any closer to attaining her goal, either.
What else should she do? How did one seduce a Rock of Gibraltar?
"
Just how much did you have to drink?"
Again, she heard the incredulousness in his voice.
She reached up with her free hand, intending to stroke the side of his face. To make an appeal.
He seized her wrist. "There'll be no more of that."
Hurt blossomed in her chest. Did he not trust her? "No, do no' deny me. Take me. Make me yours."
He was giving her the oddest look. "I think you said you'd like me to
take
you?" His frown deepened. "
Bed
you?"
She nodded avidly. "Yes, yes…oh, please, yes."
He stared at her. Oh, his expression! As though she'd suddenly sprouted horns. Did she repulse him
that
much?
She wriggled against the coverlet, the contact making her aware of the lingering sting on her buttocks.
He had actually
spanked
her!
Why had he been so intent on detaining her if he hadn't wanted what she had offered him?
"
You think it is amusing?" she asked. Shame burnt into her.
He brushed the hair off the side of her neck then and traced a fingertip along the cord down to her collarbone. "I didn't think I needed to lock my door against you, Sunny."
How cruel and mocking he was! She had never known this cruel side to him.
He leaned forward and pressed his lips to her neck. The soft-firm touch of his mouth sent shivers through her. Making her nipples tighten.
Making her more confused than ever.
"
You don't really want this," he said.
His assured tone puzzled her. Hadn't she come here naked to his bed? What man would ask himself aught beyond that? "I do,
I do
," she said.
"
Much as I'd love to oblige you, my lady, you're too foxed to know what you are doing." He kissed her nape again, this time opening his mouth. Heated breath blew on her flesh, and then the slight bite of teeth.
Wild shivers of pleasure chased down to her belly, tightening her nipples all the more and sending gooseflesh all over her body.
Despite the kindness in his voice, he had been teasing her. Mocking her. How foolish of her to have come here.
To have thought he might still want her.
If you haven't read the first chapter, click here.
If you haven't read the second excerpt, click here.
** ALSO AVAILABLE ON KINDLE UNLIMITED **